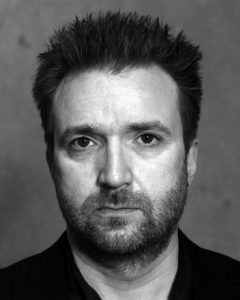 Kriton Beyer is a Greek-German musician and composer, who – as a performer and improviser – mainly works with the harmonium and the daxophone. He studied musicology in Greece where he played with a variety of local music groups. In 2004 he moved to Berlin, where he got heavily involved in the improvised music scene of the city.
Since then he has worked with many musicians like Axel Dörner, Tristan Honsinger, Tomomi Adachi, Kresten Osgood, Richard Scott, Floros Floridis, Matthias Bauer, Olaf Rupp, Antonis Anissegos, Nicola Hein, Els Vandeweyer, Liz Allbee and Harri Sjöström. Kriton Beyer is a memeber of the elektroacustic trio "uproot", the ensembles "Redox Reaction", "AEAEA" and the "Berlin Soundpainting Orchestra".
In his work with the harmonium, Kriton Beyer uses both the natural sound of his instrument and "traditional" playing techniques as well as preparations, objects and extended techniques, while his daxophone play is characterized by a very personal musical and sonic aesthetic, and an unconventional technique, sometimes also supported by the subtle use of electronics. As an improvising musician, he has performed throughout Europe. His compositions are usually characterized by conceptualism, while some of his more recent work focuses on pattern formation of sonic events in time continua. Kriton Beyer has also conceived and commissioned the music software CinePrompt®, which was specially developed for the use for live musical performance and live recording to films. He curates and manages the concert row and record label "The Procrustean Bed" as well as the performance series "Audiovisual Ventures at the Kühlspot Social Club".